Don't leave your success up to luck…
Man Who Predicted 2020 Crash Issues Next Major Warning
The firm that called the EXACT PEAK of the dot-com boom has just issued another major prediction.
If you've got money invested in the market –and especially in popular tech stocks–this is critical information for the days ahead…
---
Hey there…it's me, Felix, your personal Ace of Investing.
Yesterday, it was a rout. But today, we expect a rebound as investors get in and start buying the dip!
If you're ready to up your ante, keep reading…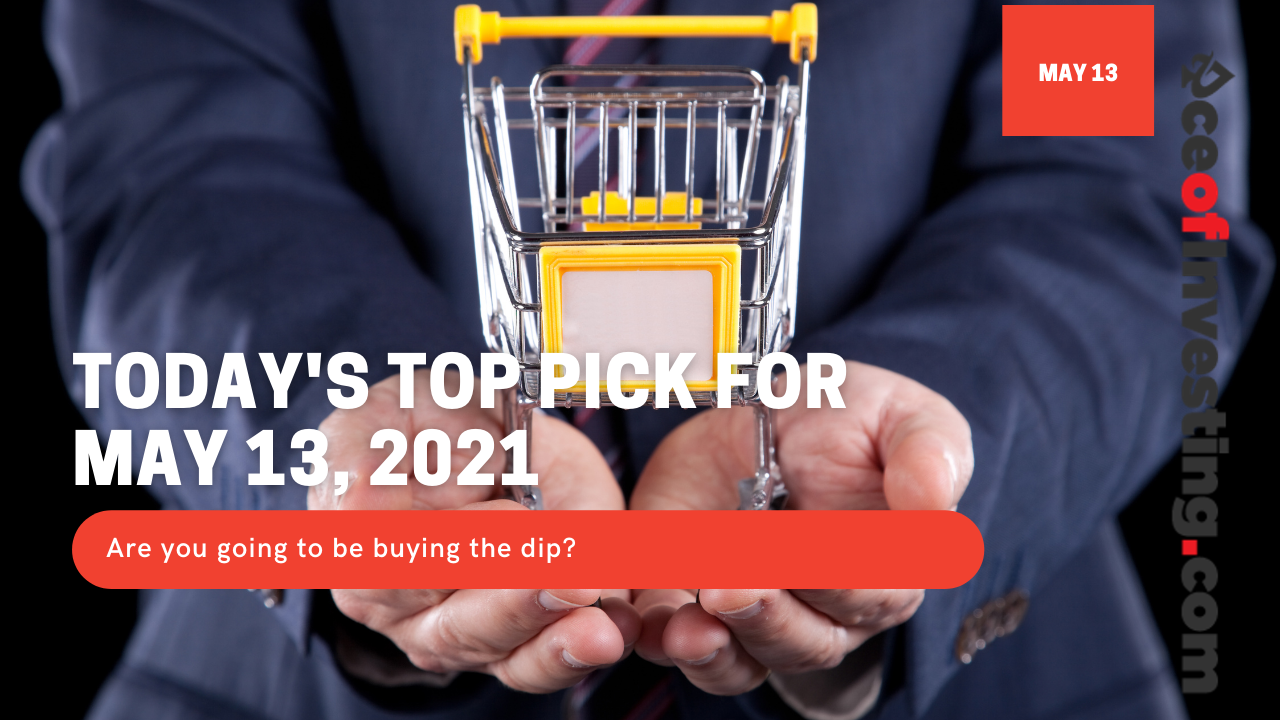 Stocks were looking for a rebound this morning after yesterday's plunge as investors buy the dip on big tech. The Dow suffered its worst losses since January in yesterday's session, dropping 681 points, nearly 2%. The S&P lost 2% and the tech-heavy Nasdaq sank 2.6%. Only time will tell where today's session will lead.
Yesterday's losses may have been discouraging to some, but it's also created buying opportunities in some attractive stocks, like the one we are featuring in today's trade alert. Continue reading to find out which ticker we are eyeing for its long-term winning potential.
Continue reading to find out which stock we're watching today…
---
Elon Musk 'Sending Dogecoin Up, Bitcoin Down' Like He's 'Wizard Of Oz,' Says Portnoy. 'This Is Bullsh*t'
David Portnoy, the founder of Barstool Sports, came down hard on Tesla Inc's Elon Musk.
He's peeved that Elon made the move to stop accepting or playing with BTC due to the high energy consumption required for mining operations.
"Elon Musk just tried to tank Bitcoin," said Portnoy — adding "The same Elon Musk who had Bitcoin on Tesla's spreadsheet and their balance sheet so Tesla can show profit at the end of the quarter because they aren't selling cars now suddenly Bitcoin is bad."
And then he kept going…
"The same guy's been pulling the levers like he's the Wizard of Oz on crypto and everyone following his every move — he's sending Dogecoin up, he's sending Bitcoin down. This is bullsh*t."
Take a look at what else Portnoy had to say on the matter…
YOUR ALIBABA UPDATE
Alibaba posts first operating loss as a public company following $2.8 billion antitrust fine
Alibaba had a bad March. They unveiled a new loss in the March quarter of 5.47 billion yuan.
That alone is a pretty tough pill to swallow.
Especially since the market was anticipating a net PROFIT of 6.95 billion yuan.
So, where did that huge drop come from?
Well, for that, we can thank the massive antitrust fine it received last month.
It marked the first time ever that Alibaba reported an operating loss.
But if it weren't for that massive fine, take a look at what their numbers would have been…
LET'S ADDRESS THAT MINDSET
Are you ready for this?
"You get recessions, you have stock market declines. If you don't understand that's going to happen, then you're not ready, you won't do well in the markets."
– Peter Lynch
Investors today have been sitting through one of the longest and strongest bull market runs in history.
But now things are taking a bearish turn, and that could catch a lot of new investors completely off guard.
The reality is that all good things will eventually come to an end.
And while I'm not saying our bull market run is over, the point is that one day, it will be.
Whether that day is today, tomorrow or sometime in the next ten years.
Recessions happen. Stock markets decline.
If you don't understand that is going to happen, then you're probably not ready for what could be coming your way.
But now that I'm reminding you about it, you have an opportunity…
An opportunity to start getting ready – with the full knowledge that I'm here to help you on the journey.
You don't have to go this alone!
PRODUCER PRICES SURGE
Producer prices post biggest annual increase on record
Yesterday, it was all about the CPI (Consumer Price Index) numbers.
And they were pretty scary.
But today's producer prices update just adds to the pain.
Producer prices rose in April at the fastest annual pace every recorded.
"The producer price index for final demand last month rose at a 6.2% annual pace, quickening from March's 4.2% increase, the Labor Department said Thursday. The April reading made for the biggest annual jump since recordkeeping began in November 2010. On a monthly basis, prices jumped 0.6%, slowing from last month's 1.0% increase."
The annual data has a "base effects" skew due to the price decline that occurred at the onset of the pandemic.
Here's what else you need to know…
Recommended Link:
What the 1% Aren't Telling You About Building Wealth
America's 1% – the extremely rich and powerful – don't live like everyone else. And they don't invest like everyone else, either. Billion-dollar money manager Louis Navellier, one of "their own," breaks away to reveal some very big secrets, including key details about the next 6 months.
WHERE SHOULD I INVEST?
Where to invest $500 right now…
Before you consider buying MP Materials, you'll want to see this.
Investing legend, Whitney Tilson just revealed his #1 stock for 2021…
And it's not MP Materials.
He bought Netflix at $7.78, Apple at $1.42, Amazon at $48 and Now he's going all-in on the one stock driving the next big tech trend that will make investors rich in 2021.
You can learn all about it on Mr. Tilson's Website, here.
Wondering what stock he's investing in?
Click here to watch or read his presentation, and learn for yourself…
But you have to act now, because a catalyst coming in a few weeks is set to take this company mainstream… And by then, it could be too late.
Click here to find out the name and ticker of Whitney Tilson's no. 1 pick for 2021…
Action is one of the best investments,
Felix Morgan
Editor-in-Chief at Ace of Investing

P.S. Know someone who might benefit from Ace of Investing? Send them here to get opted in!